Custom Printed & Personalised Glow In The Dark T-Shirts
We offer a custom printing service everything from single printed glow t-shirts to larger orders. Should you require a quote for larger orders please get in touch. Prices depend on the design and quantity you require so if you can supply us with a rough design this will help us give you a more accurate quote. All designs must be vector based images so designs must be without shading - Vector Images.
We are unable to print onto your own stock due to items not being right for the printing process and due to the risk of damages. We do have access to a huge range of stock including hooded tops and various styles of t-shirts.
Prcies included below include t-shirt, printing and are based on printing onto the popular Gildan Heavy t-shirt.
Upgrade to premium quality Gildan Ultra t-shirts for an extra 60p per t-shirt.
Free or low cost postage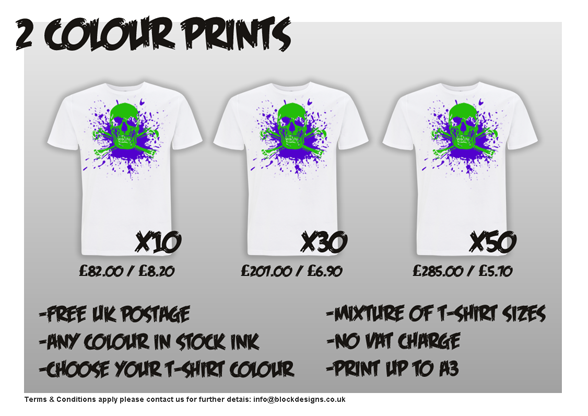 Two colour printing is required for all glow in the dark t-shirts, this is because a white base coat needs to be printed followed by the glow in the dark ink.
---